ABNT NBR 16029: 2012 - Why you must require a certification for Big Bags for Non-Hazardous Products?.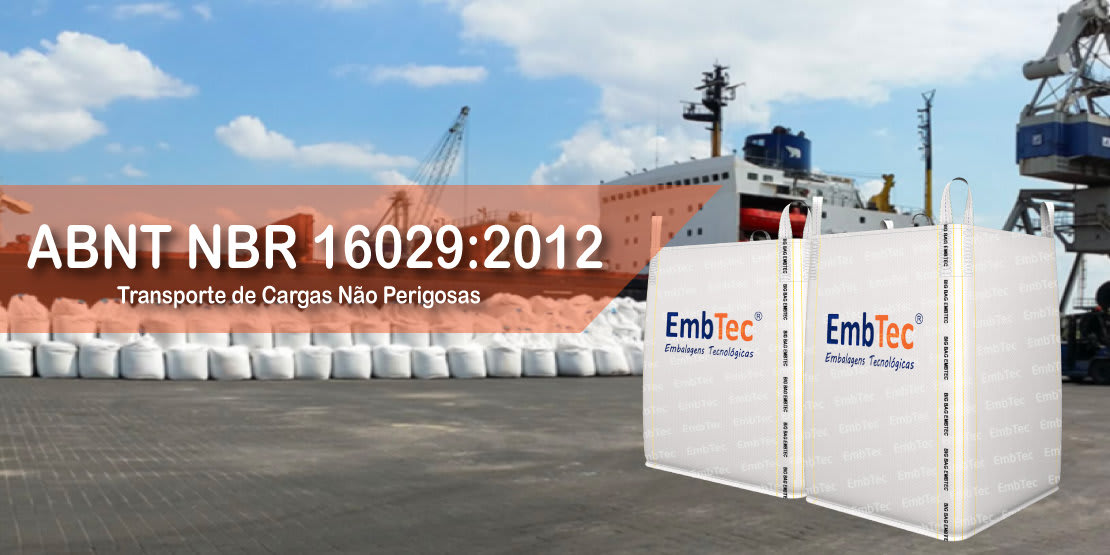 The NBR 16029: 2012, which replaces NBR 15009: 2003, was elaborated in the Brazilian Committee of Packaging and Packing, by the Study Commission of Flexible Containers.
The scope of ABNT NBR 16029: 2012 reads as follows:
"This Standard specifies requirements for materials, construction and design; type testing, certification and marking of Flexible Intermediate Containers (FIBC) intended to contain non-hazardous solid materials in the form of powder, grains or pulp and are designed to be suspended by means of integral or detachable devices."
The manufacturer may subject the Big Bag to laboratory tests to verify the technical compliance with the requirements established by the standard.
If the results obtained in the laboratory are in accordance with NBR 16029: 2012, it is considered that the design of the Big Bag tested caters the pre-established requirements in standards and regulations.
It is important to make clear that the tests carried out, as well as the laboratory reports, refer only to the model and project submitted to the test, and therefore do not apply to other models and projects.
Although the standard is optional, the Big Bags approved in the laboratory tests that have been tested in accordance with the requirements of NBR 16029: 2012, have a much higher quality than products that do not have this approval. If you are concerned about the quality of your Big Bags, ask your supplier for the NBR 16029: 2012 compliance report.
All the products of EmbTec, for the transportation of non-hazardous cargoes, have a compliance report to ABNT NBR 16029: 2012, as well as all Big Bags destined to the transportation of dangerous cargo, are INMETRO certified. You can check our certificates in our website (www.embtec.com.br) in the Certificates section.
It is worth it to highlight that the NBR 16029: 2012 does not certify the big bags for the transport of dangerous cargoes. This certification is issued by an OCP (Product Certification Body) accredited by INMETRO.
If you want to know more about ABNT NBR 16029: 2012, please contact our technical team or purchase the standard at http://www.abntcatalogo.com.br/norma.aspx?ID=089916.
Tags: ABNT, NBR 16029, NBR 15009, flexible containers, quality.